Tax Consultant 2017
Released Tax Consultant unlimited version 1.31 (Updated) (FY 2016-17 to 2025-26) for the Income Tax calculation and preparation of Income Tax Antecipatory Statement, Final Statement, Form 16 and Form 10E. This software can be used for ten Financial Years from 2016-17 onwards. It is completely different from the previous years. You can change every thing.. The main features are,
User can Customise the Tax Rate, DA Rate, Header Title etc using General settings icon.
No need of updation for DA % change, Tax Rate change etc
Option to edit Header Title, DA% and Tax Rates
Set Default option to restore the default settings in one click
Introduced Software Assistant to familiarise the software for first use
Data import button to import data from previous versions
Can add up to 100 employees
Add, Edit and Delete function
Popup window to easily each section under Tax Relief.
Highly validated and more user friendly
Attractive Design
Related Downloads
Pay Revision 2014 - Payment of Arrears -Detailed Instructions Issued
Vide Circular No. 46/2016/Fin Dated 19/05/2016, Government have issued detailed instructions on the payment of pay revision arrears due from 01/07/2014 to 31/01/2016 as detailed below.
All Drawing and Disbursing Officers should calculate month wise arrears of pay revision including surrender of earned leave of all employees for the period from 01.07.2014 to 31.01.2016 with interest from 01/02/2016 at the rate applicable to General Provident Fund as directed at para 46 of the GO read above in the proforma attached with this circular before 30.06.2016. Every employee will be served a copy of the statement of arrears due to him. The DDO should furnish a consolidated statement of pay revision arrears specifying the amount due on each instalment and the head of account from which salary is drawn before 31/07/2016 under his control to the head of the department.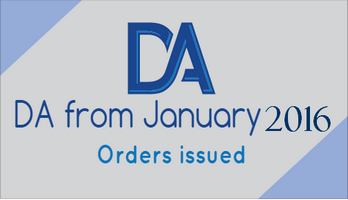 Dearness Allowance Enhanced w.e.f 01/01/2016
Vide GO(P) No.61/2016/Fin dated 05/05/2016, Kerala Government have issued orders revising the Dearness Allowance to State Government Employees and Dearness Relief to State Service Pensioners/Family Pensioners with effect from 01/01/2016. The Rate of DA w.e.f 01/01/2016 in the Revised Scale enhanced from 6 % to 9%. Those employees continuing in the pre revised scale vide GO(P)No.85/2011/Fin dated 26/02/2011 enhanced from 92% to 98% and those employees continuing in the pre revised scale vide GO(P)No.145/2006/fin dated 25/03/2006 enhanced from 225% to 236% w.e.f 01/01/2016. The enhanced rate of DA will be paid in cash with the salary for the month of May-2016. For more detalis view related downloads
Related Downloads