Pay Revision 2014 - Payment of Arrears -Detailed Instructions Issued
Vide Circular No. 46/2016/Fin Dated 19/05/2016, Government have issued detailed instructions on the payment of pay revision arrears due from 01/07/2014 to 31/01/2016 as detailed below.
All Drawing and Disbursing Officers should calculate month wise arrears of pay revision including surrender of earned leave of all employees for the period from 01.07.2014 to 31.01.2016 with interest from 01/02/2016 at the rate applicable to General Provident Fund as directed at para 46 of the GO read above in the proforma attached with this circular before 30.06.2016. Every employee will be served a copy of the statement of arrears due to him. The DDO should furnish a consolidated statement of pay revision arrears specifying the amount due on each instalment and the head of account from which salary is drawn before 31/07/2016 under his control to the head of the department.
Online RTI Certificate Course
Institute of Management in Government (IMG) Proposed to conduct Online Certificate Course on Right to Information Act 2005 (English Version). There will be no Course fee. Registration is open for Public, Employees and Students. Registration for the Basic Online Certificate Course on Right to Information Act, 2005 commenced on 15th June 2016 and close on 20th June 2016.Selected persons will be intimated through e-mail.
Daily Wages Rates
Categories
Rate
w.e.f
Order No. & Date

1. Clerk

2. Typist

3. Security Guard

4. Pump Operator

5. Data Entry Operator

400
01/10/2014
GO(P)No.466/2014/Fin Dated 28/10/2014
350
01/04/2011
GO(P)No.264/2011/Fin Dated 18/06/2011
200
01/08/2009
GO(P)No.441/2009/Fin Dated 13/10/2009

6. Chainman

7. Class IV

8. Workers in Govt. Press

350
01/10/2014
GO(P)No.466/2014/Fin Dated 28/10/2014
300
01/04/2011
GO(P)No.264/2011/Fin Dated 18/06/2011
180
01/08/2009
GO(P)No.441/2009/Fin Dated 13/10/2009
9. Driver
450
01/10/2014
GO(P)No.466/2014/Fin Dated 28/10/2014
400
30/03/2013
GO(P)No.145/2013/Fin Dated 30/03/2013
350
01/04/2011
GO(P)No.264/2011/Fin Dated 18/06/2011
200
01/08/2009
GO(P)No.441/2009/Fin Dated 13/10/2009
10. Computer Operator / Junior Programmer
500
01/10/2014
GO(P)No.466/2014/Fin Dated 28/10/2014
450
01/04/2011
GO(P)No.264/2011/Fin Dated 18/06/2011
280
01/08/2009
GO(P)No.441/2009/Fin Dated 13/10/2009
11. Electrician
350
28/01/2012
GO(P)No.75/2012/Fin Dated 28/01/2012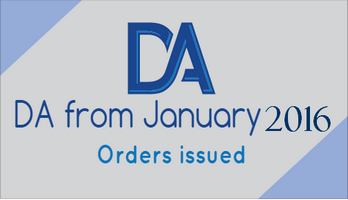 Dearness Allowance Enhanced w.e.f 01/01/2016
Vide GO(P) No.61/2016/Fin dated 05/05/2016, Kerala Government have issued orders revising the Dearness Allowance to State Government Employees and Dearness Relief to State Service Pensioners/Family Pensioners with effect from 01/01/2016. The Rate of DA w.e.f 01/01/2016 in the Revised Scale enhanced from 6 % to 9%. Those employees continuing in the pre revised scale vide GO(P)No.85/2011/Fin dated 26/02/2011 enhanced from 92% to 98% and those employees continuing in the pre revised scale vide GO(P)No.145/2006/fin dated 25/03/2006 enhanced from 225% to 236% w.e.f 01/01/2016. The enhanced rate of DA will be paid in cash with the salary for the month of May-2016. For more detalis view related downloads
Related Downloads
Subcategories
You are here:  

Employees Corner